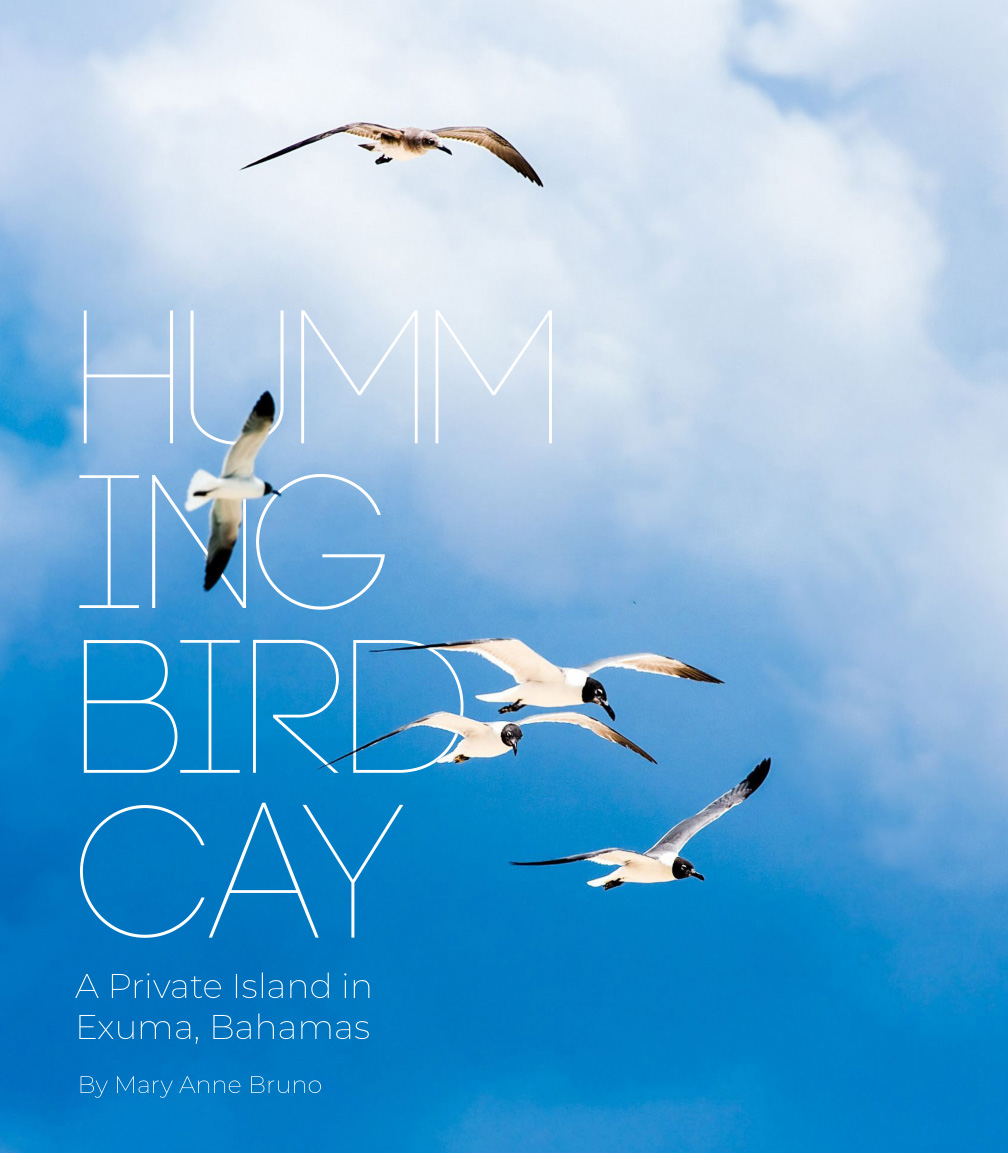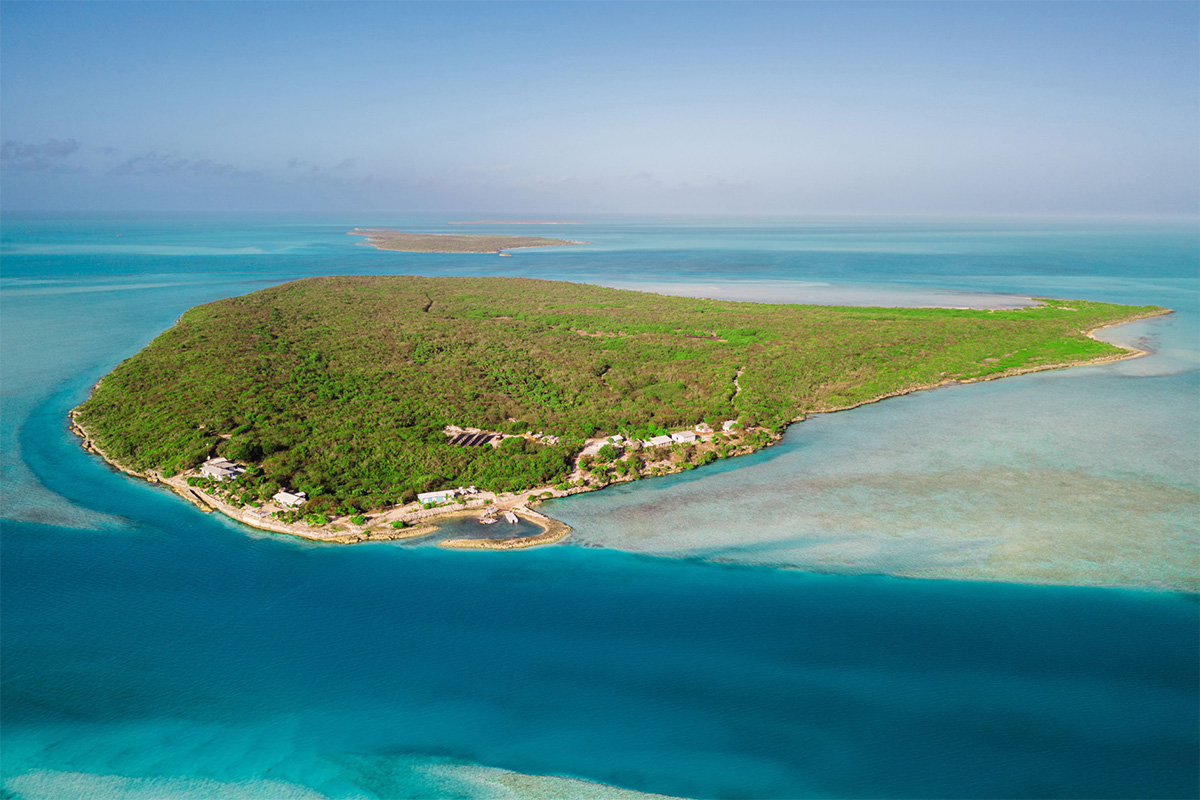 Let me take you to a place where only the owner's family and invited guests have known to go for decades. Jeneice, the island's self-titled "domestic maid," says the Southern Cays are the sweetest and best. Consulting to refresh the dwellings, revitalize and energize private island Hummingbird Cay (HBC), was an experience of a lifetime.
Arriving at Exuma International Airport was breathtaking, and astronauts were right; the Bahamas collective miles of islands are "the most beautiful," and unique sight "from the sky." I reminisced of my own island home during a short ride with Smitty's taxi through Georgetown, on what it was once like in the '60s and '70s. The experience continued when Sam, "caretaker" for HBC, picked me up by boat alongside my associate Elle at Moss Town dock; it was a concrete driveway to a bay off a dirt road familiar to locals. He whisked us off on intoxicating aqua-blue waters. I could hear my client/friend saying, "the ocean and the clouds are... well, you'll just have to see for yourself." Baby-blue, cotton candy clouds appeared genuine by colors reflected from the sea together with an ensemble of the sun setting against periwinkle skies and the electrifying horizon in orange, red and pink hues. We arrive within 20 minutes by the private island's water taxi to a quaint and perfectly protected docking station, and are greeted by a streamlined shark and other beautiful marine life. As I set foot on the solid archipelago limestone island, it dawned on me that very moment: Hummingbird Cay would forever change me.
"Dad used to sit on the deck, and the seabirds would fly over to him every time," says my friend. Joey and Harold arrived days later to film our progress and capture the inquisitive feathered friends in flight almost daily. As I learned about the island's natural resources, it made me want to bring home a lifestyle more like HBC. The morning brew is freshly picked organic "strongback herbal tea," so smooth and mellow tasting for any time of the day; there are many other varieties, but this was everyone's favorite. Dinner fare was freshly caught snapper, grouper and barracuda from a "Bahamian hand-reel." No need for a pole of any kind. The catching was quick and easy for any novice. The fish danced on my taste bud's imagination with thoughts of sashimi carpaccio with jalapeno, grouper on a BBQ, barracuda marinated and seared in a cast-iron skillet. A popular side dish is freshly grown and picked green peas mixed with rice or simply buttered.
Nearby, within walking distance is a freshwater table well, only found on limited Cays, including HBC out of the 365 Cays. A photovoltaic (PV) system provides electricity to all the dwellings, which gives an ease of comfort knowing you are using the sun's energy to generate electricity each day. We showered in reverse osmosis saltwater, which left no salt residue on the body—a great gift from the sea. It was a simple reminder of the respect that went into the long-term thinking for this beautiful private island by its owners.
Many Tufts University, Exuma High School students, professors, and the island's guests have walked a thousand footsteps through these beautiful, forested trees and ferns. Researching as study groups or individuals on the approximate 236 acres of HBC, they were offered housing on the island, including meals served in a separate kitchen and dining setting each day.
A rare find is a beach fronting the westside, which can be accessed by a walk from the bungalows or a quick boat ride. We utilized both and on our walk home, saw butterflies; from the boat, we witnessed a large stingray swimming gracefully out to sea from the shoreline. This pristine beach is one of the longest, most secluded white sand beaches you'll find on any of the 365 Cays. Your footprints may be the only ones on this private oasis until the next family member or guest sets foot on it again. There is no light pollution, so you can gaze upon the bright stars and Milky Way at night. A conch revitalization project includes tanks that can facilitate the project forward.